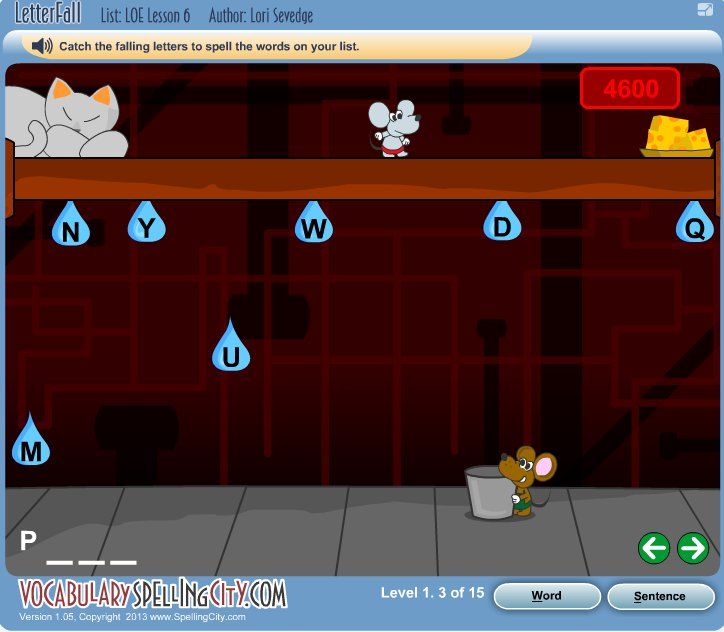 Letter Fall game
I allowed the homeschooling young man to goof around on the site and find what he wanted to work on and he found some pretty cool areas that I did not even know existed on the site. He came across some very COOL science vocab lists that are by grade and by subject, as well as GERMAN word lists. Now how cool is that? He was messing around with those German word lists day and night, big thrill for him since he is taking German this year. The other games that he really liked were Hang Mouse and Word Scramble.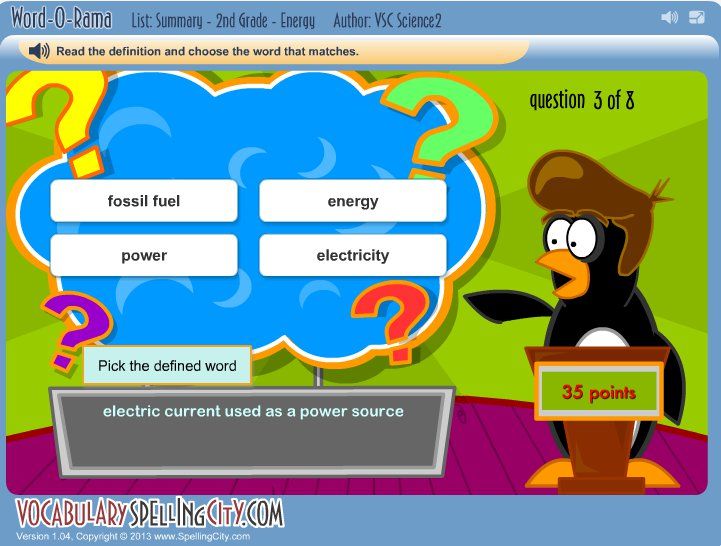 Word-O-Rama game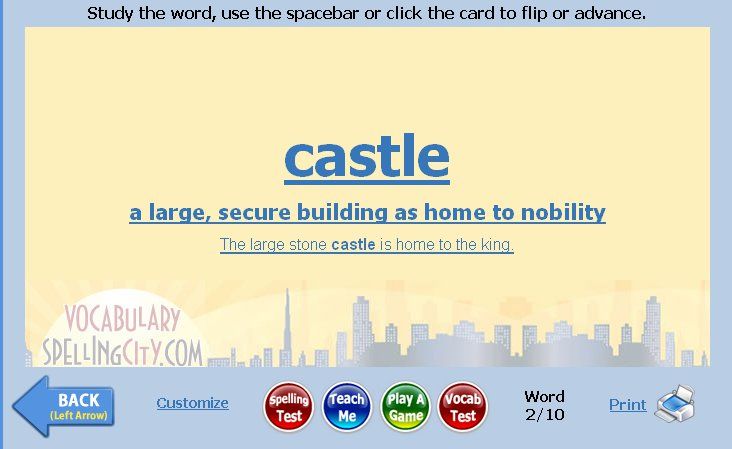 Flash Card
You get all the goodies from the FREE account + you get the following (remember a one year membership is good for up to 5 students in your family for one low price of $29.99).
"
Premium Learning Activities" which includes vocabulary & writing games and activities.
"Accountability": your child's activities are recorded & tracked for you to view at your convenience.
"Differentiated Learning": you can assign different tasks to each of your children
"Efficient record keeping": Great for states where homeschoolers must track their students because the tests results and student activities are recorded right away.
"Tools for specific populations": Each list can be geared toward your individual student such as English As A Second Language, think of adoptive kids that may be homeschooled, this would be a great tool for kids learning English.
You get telephone support.
Synonyms, antonyms, parts of speech, definitions and so much more all included for just $29.99 per year for up to 5 students in your family when you sign up for the
Premium Membership
of
VocabularySpellingCity
.
Oh, I almost forgot about two of the AWESOME benefits of being a Premium Member,
NO COMMERCIAL BANNER ADS!! And you can leave your student a personalized message for them to read when they sign in. How sweet is that?
VocabularySpellingCity
also offers Mobile Apps for iPad/Iphone/Ipod Touch, and now they even offer an Android App and a Kindle app. We used the Kindle app and it worked really well.
All in all we had fun playing with the

VocabularySpellingCity

Premium Membership

and I think we learned from using it too. Make sure you check out the FAQ section, lots of helpful info there and also a great video guide is on the site too.
P.S.

VocabularySpellingCity

comes in handy when homeschool Momma is busy and can't stop just right then and there, she can send her students to play on

VocabularySpellingCity

...lol. The kids won't even know they are learning, they will be having so much fun!! Also,

VocabularySpellingCity

is a great learning tool for school teachers to use in the classroom. See

VocabularySpellingCity

for more information.