Our family has a whole host of serious board gamers!! When we were offered the chance to review the
The Presidential Game
we jumped at the chance to review this product. As you will see, sometimes you roll the dice and don't get what you bargain for in the end.
The Presidential Game
is a game of strategy to see who can get the most Electoral Votes: 270 wins the game. Teams consist of Republicans and Democrats.
The Presidential Game comes with
a 20" x 30" GAME Board, Score Pad, 3 Blue Dice, 3 Red Dice, 80 Politics Cards, 40 "Write-Your-Own" Politics Cards, 150 Republican Votes (red chips), 150 Democrat Votes (blue chips), 1 Electoral WebMap™ Calculator Access Code. The game is for ages 11 & up, I would think that most 9+ year olds could play on a team with an older child or adult. The game retails for $35.00 plus shipping. Either 2 players can play or you can set up 2 teams.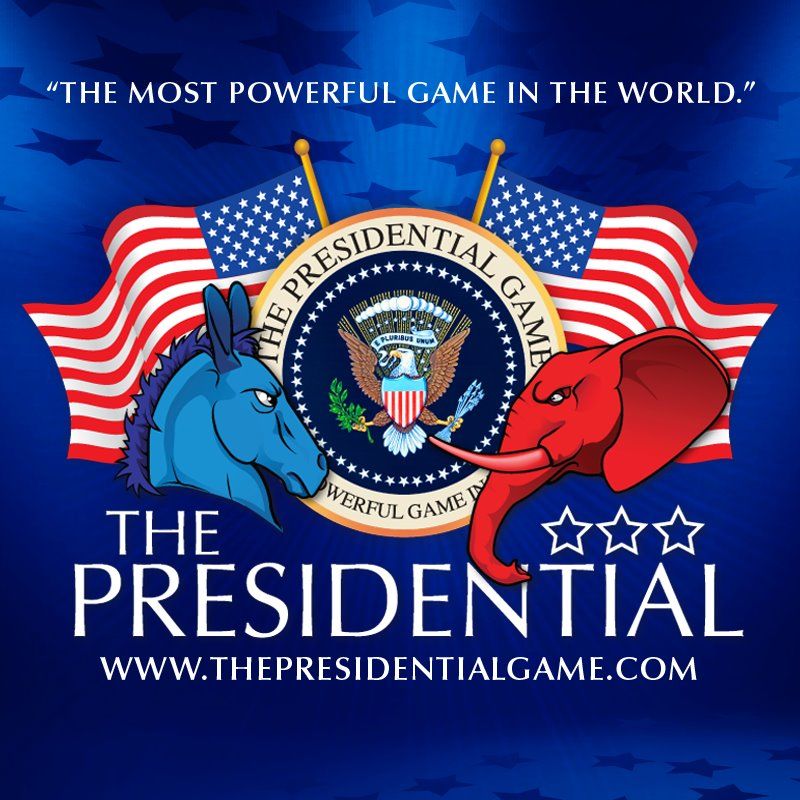 What this homeschool Momma liked about
The Presidential Game
.
1) Games works on math skills, lots of dice to count! More math comes into play when chips are used.
2) Works on reading skills.
3) You can decide how long you will play, picking 15 weeks runs about an hour. We played 30 weeks the first time and it took us about 2 hours, but we had a few interruptions along the way. After that when we played the games went pretty quickly.
4) Once we got the hang of the game it was pretty easy to play.
5) Nice large sturdy board game.
6) The website has a nice FAQ section.

What this homeschool Momma did not like about
The Presidential Game
.
1)
The Presidential Game
website says "entertaining and educational". I would say it's more entertainment than it is educational, as you really only learn the total number of Electoral Votes that you need to win a particular state.
2) I have a minor in political science and I had hoped for a bit more education in this game, such as campaigning laws and fundraising laws. It would not take much effort to include a few definitions in the instructions.
3) I thought we would learn how the number of Electoral Votes are decided upon for each state.
4) As parents we were very disappointed in some of the Political cards that were not too our liking regarding our family values. Here is just a sampling of the cards that we removed from our deck when we played. Let me just say that we are NOT sheltering our child, but we do not wish to make light of serious matters in our country that can result in jail time such as the "arrested for disorderly conduct" card. Some of the Political cards awarded chips or took chips away based on what the card topic was, including the following topics: legalizing
marijuana, gambling, arrested for disorderly conduct, drunk uncle, separations in marriage, drinking beer, there were a few others we were not thrilled with, but to a Mom the ones that I listed were the worst offenders.
5) I was expecting a family friendly board game, but for our family the The Presidential Game did not deliver. Based on my review you can decide if those cards effect your buying decision as each family has their own values that they follow. Had we known ahead of time that the Political cards dealt with adult themed items (or cards for mature audiences), we would have been prepared to answer questions that were brought up, but while we played the game, we were caught off guard by those cards.
6) We play a LOT of games in this house, yet we found the instructions were difficult for us to follow.
7) Wish that the Political cards gave the name of the candidate that they were speaking of, it would be a nice history lesson.
Electoral WebMap™ Calculator on our Kindle Fire
What this homeschool young man liked about The Presidential Game.
1) I liked Electoral WebMap™ Calculator and how I could keep score on the Kindle.
2) I liked trying to plan ahead what I was going to do in my game play.
3) Learned to work with teammates on game play.
4) I liked the write your own political cards.
What this homeschool young man did not like about
The Presidential Game
.
1) I was not real happy about some of the Political cards, especially living in a state where many of our political leaders are now in prison.
2) The game instructions were hard to follow, and I am still not sure that we are keeping score just right. I'm a numbers kinda guy and this bothers me! lol
3) The Electoral WebMap™ Calculator kept locking up on our Kindle, not sure if it was an Internet issue or not, but it happened each time we played. Maybe I was inputting info too quickly for it to process?
4) I did not like that Mom kept winning! LOL!
The concept of the
The Presidential Game
is AWESOME! But I think that they may need to tweak a few things to make the game more family friendly and more educational. Because think about it folks, what better way to learn about our political system than through playing a game!