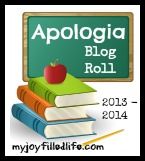 This was our first year doing Apologia. We did the Anatomy and Physiology. We had been using Abeka since the very beginning and it was just not working for our son. He thrived with Apologia and learned so much. We bought a lapbook and used that along with the Anatomy Notebook Journal and LOVED it! We started it late in the year and it was no trouble working in the summer with it. It seems like recreational reading instead of school book reading.
I had to have surgery during this review and ended up with a post-op infection, and was hospitalized for 13 days. I spent many months of laying and doing nothing but sleeping and eating pain meds.
My son was able to move forward all by himself in the material,
that was a huge blessing and he learned a lot. I was very impressed with his drawings of the human cell, normally he hates drawing in science and would whine and carry on if he had to draw anything besides a Star Wars action guy! lol. But he really had a fun time with the
Anatomy Notebooking Journal
.
Looking back at our years of struggling with science, I wish we had decided to use Apologia Educational Ministries, INC long ago!! Our 7
th
grader would like to go back and do the other Apologia science books: Zoology, Astronomy, Botany, Flying Creation and Swimming Creation. So I think we will be spending our summers under a shade tree or at the beach with some new Apologia science books.
Next school year we are starting with Apologia Physical Science and have everything ready to go and are very excited about starting!