We have been given the opportunity to review
A Journey Through Learning
lapbooks. A Journey Through Learning is a company that was founded by two homeschooling moms Paula & Nancy, how cool is that? 2 ladies who know exactly what we do on a daily basis with our children!! Who better to create a curriculum for us.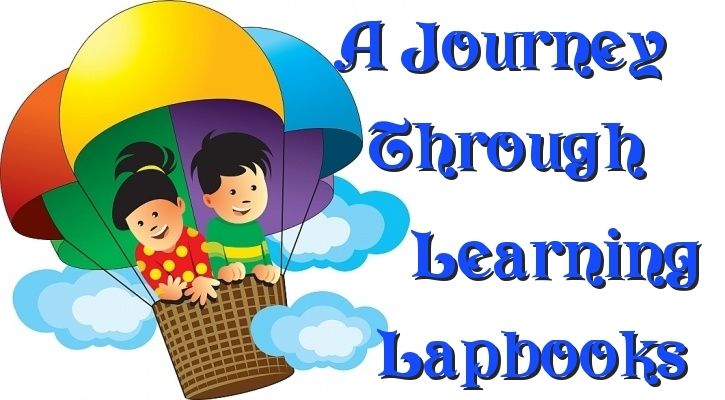 Our son is 7th grade but still enjoys doing some of the lower grade fun stuff. This is our first experience with lapbooks, I had seen them online over the years, but I was so focused on book work in the first few years that I overlooked lapbooking, "You can't learn from arts and crafts" I thought! Well our 7th grader took to lapbooking like a fish to water!
Stack of library books that became a part of the leraning process.
Click on the link
Knights, Castles and Middle Ages lapbook
, the lapbooks are available in the following formats:
Instant Download- $13.00
CD- $14.00
Printed- $21.00
We were asked to pick one of the following lapbooks.
Letters, Numbers and Shapes
(ages 3-5)
The Earth
(grades 1-4)
Knights and Castles
(grades 2-7)
Astronomy and Space
(grades 2-7)
Section 1, with drawings and cut outs.
We were given the instant download version to review. That worked really well for us even with very slow and basic DSL Internet service. I printed out the lapbook for the Knights and Castles; my son just went to town on it! He got some library books to read up more on the subject. He has been cutting and pasting like crazy. He watched the
how to videos
from A Journey Through Learning and picked right up on how to make the lapbook without my assistance.
Middle section of the lapbook.
We had all the supplies on hand already for the lapbook. If you have younger children you will need to work with them on this, I would say most 3rd graders could read the materials on their own, 5th grade on up could do the lapbook on their own with you checking up on them. I highly recommend watching the how to videos that I mentioned above, they were very helpful and explained things in very easy to understand terms.
Last section of the lapbook.
For the review our son picked
Knights and Castles Lapbook with Study Guide
which covered the Middle Ages. We liked the fact that the materials were from a Christian perspective.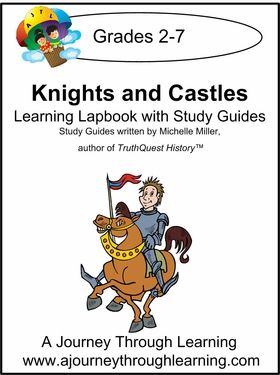 What our son liked about
A Journey Through Learning
lapbook:
1) It covered the Fall of Rome, Middle Ages, this was all new to me.
2) Love learning about the castles, I learned that they are not very fun to live in.
3) Knights and armor
4) Loved doing crafts that counted as school work.
5) Liked how there were places to draw pictures.
6) This was so much fun!
What our son did not like about the lapbook:
1) NOTHING
What this Homeschool Mamma liked about
A Journey Through Learning
lapbook:
1) This was so much fun!
2) Easy for "On your own work."
3) Easy instructions.
4) Not too many supplies needed.
5) Did I say "FUN?"
6) BONUS!!! No outside materials needed for research, if you wanted to go more in depth there are book suggestions included. Otherwise you can just use what A Journey Through Learning provides for you.
What this Homeschool Mamma did not like about
A Journey Through Learning
lapbook:
1) NOTHING! It was totally awesome and even hubby thought it was a cool way to learn.
I am finding that lapbooking is great for those homeschooling days, weeks or months when a homeschooling mom has health issues. I've gone through a Sigmoid Colon removal surgery, had an anastomotic leak,
and then an infection from the leak, which has made for an interesting end of the school year to say the least! lol. A Journy Through Learning lapbooks would be a great learning tool for those times that homeschooling is difficult on mom. My son worked on handwriting, cutting, reading, spelling, and history, all while I rested quietly as I recovered.
Come see what others reviewers have to say about
A Journey Through Learning Lapbooks
.
For those of you that have NEVER done lapbooking, it's so cool and I think we are hooked on it. Looking back now, I wish that we had done lapbooks from the very beginning, but ya know, you can't go back. So we are going forward and he is looking at what else he can lapbook. So all is not lost, but you know how our mommy homeschool brains work, it was sort of a sad moment thinking about how those fun little homeschool learning moments are fleeting. Enjoy your children and relax with the textbooks for awhile and try a lapbook out.